Looking for a child-friendly wellness hotel?
We're often asked if Das Graseck is a child-friendly wellness hotel. Our answer? "Yes, it is!" We're delighted to welcome all small guests. However, we're not a specialised family hotel in Garmisch-Partenkirchen, as our focus has always been on tranquillity, well-being, and health. If that's exactly how you imagine your family holiday will be, we'd love to welcome you at Das Graseck.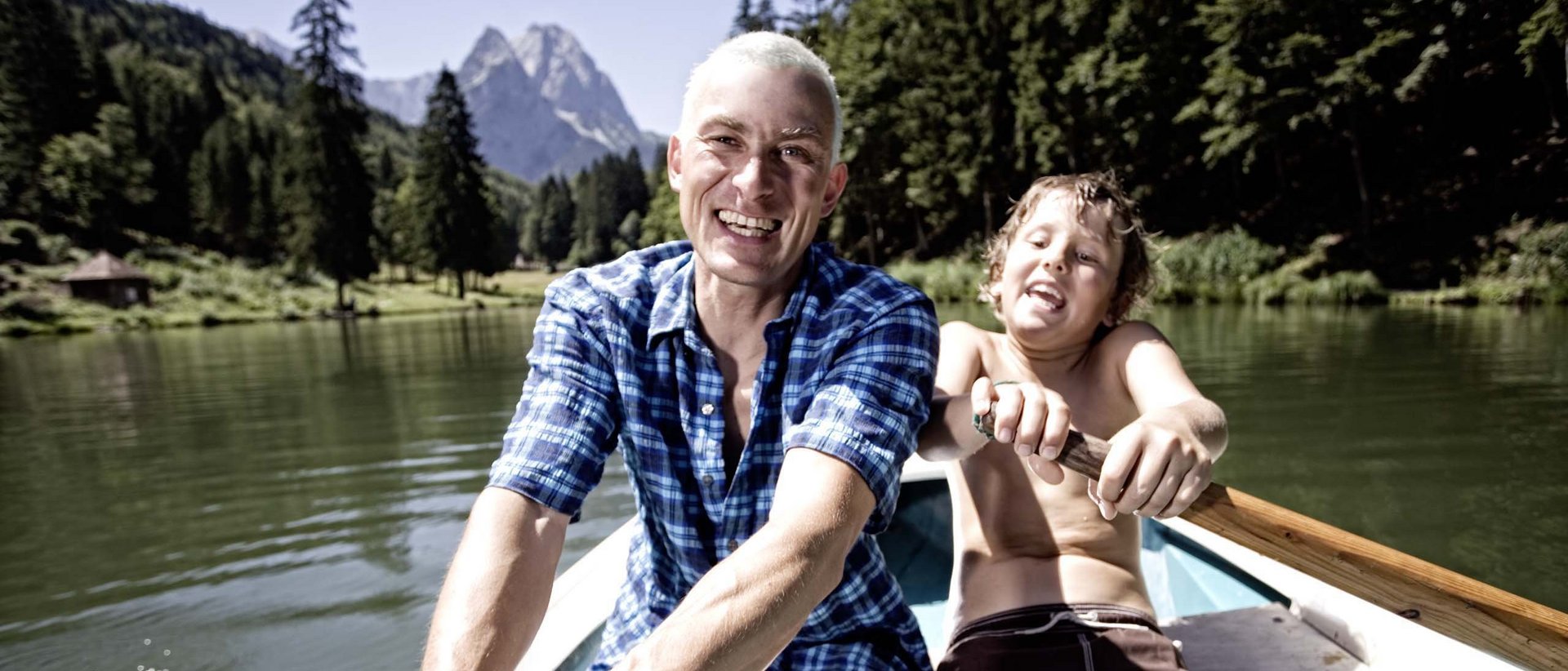 We're certain: You'll simply love the offers and services of our somewhat different family hotel in Garmisch-Partenkirchen.
There are countless activities to enjoy with your children out in the nature around Das Graseck or Garmisch-Partenkirchen. Our reception team will be happy to provide you with more information. The hotel itself has limited facilities, as the Panorama Spa including the outdoor relax pool is only permitted to be used from the age of 16. The infinity outdoor pool is open to your children between 10 a.m. and 12 noon and is reserved as a quiet area for adults outside these times.
One adventure after another
Hausberg offers a paradise for little skiers to enjoy their first attempts on skis. Learning to ski in the newly designed Ixis Kinderland is so much fun! Various elements such as waves, cones, and archways as well as jolly mascots ensure unforgettable experiences in the snow. Anyone who doesn't yet feel totally at ease on skis is in the best of hands at the Sprenzel, Garmisch-Partenkirchen, and GaPa ski schools. The best part? Children under the age of 6 ski for free in the Garmisch Classic area when accompanied by their parents.
Relaxing on the beach, playing in the water, enjoying the sunshine – as soon as the temperatures rise in summer, the open-air pools and bathing lakes around our child-friendly wellness hotel are a big hit with families and children.
Kainzenbad outdoor pool 3km
Alpspitz wave pool 5km
Lake Riessersee 7.8km
Farchant heated outdoor pool 9km
Zugspitz Spa Grainau 11km
Oberau swimming pool 14km
Lake Eibsee 15.5km
WellenBerg Oberammergau 23km
Looking for swimming and sliding fun on cold days?
WellenBerg Oberammergau 23km
PS: While we're not a traditional children's hotel in Garmisch-Partenkirchen, kids are welcome to use our infinity pool between 10 a.m. and 12 noon when accompanied by their parents.
When the weather's fine, there's nothing more exciting for kids than playing with friends of the same age outside and having fun.
• Eckbauer playground 3km
• Playground on Wank mountain 4km
• Playground in Wettersteinstraße 4km
• Playground by the church in St. Anton 5km
• Loisach playground 7km
Gliding over the lake in a rowing boat or pedal boat, cooling off in the fresh water, spotting the odd fish – always a pure delight.
Lake Riessersee 7.8km
Lake Eibsee 15.5km
If you're looking for a little more culture, the royal castles of King Ludwig II are within easy reach and are sure to enchant your children!
Linderhof Castle 29km
Glentleiten open-air museum 34km
Neuschwanstein Castle 56km
The nature right on the doorstep of our child-friendly wellness hotel is a true Alpine paradise – without noise or traffic, but instead a whole host of impressive places to visit and fantastic refreshment options. Ready for your next discovery tour?
Eckbauer mountain (by cable car) 4km
Kreuzalm (by cable car) 5.7km
Gschwandtnerbauer 8.8km
Wank mountain (by cable car) 9.3km
St. Martin mountain hut 9.4km
During your family holiday at Das Graseck [Das Graseck], you can look forward to a new adventure every day. Simply decide what you want to do on the spur of the moment!
Cross-country skiing in Garmisch [SEO Experiences] 2km
Torchlit hike through Partnach Gorge [Torchlit hikes] 500m
Ski jump 2km
Summer toboggan run 2km
Flying fox 2km
Werdenfels History Museum 4km
Kletterwald high ropes course 5km
Alpine garden on Schachen 7km
King's House on Schachen 7km
Werdenfels castle ruins 9km
Kuhflucht waterfalls 10km
Zugspitz Glacier Adventure Trail 15km
Alpine Coaster summer toboggan run 25km
Glentleiten open-air museum 34km
highline179 suspension bridge 45km
Happy children thanks to healthy parents
No time for comprehensive health care? Not with us! We offer you professional medical screenings on a clinic level – in a relaxing, feel-good atmosphere and without waiting times. We will be happy to arrange parents' check-up times to ensure that one always has time to do something with the children.