Colonoscopy in Garmisch, because health begins in the gut
The intestines are not only important for digesting our food and absorbing nutrients, but are also our largest defence organ: They contain hundreds of strains of bacteria that ensure our immune system is working and we remain healthy. With the help of a colonoscopy in Garmisch, any anomalies and pathological changes can be detected and treated early, before they can lead to severe consequences for your health.
Bowel cancer screening in Bavaria
The colonoscopy is the gold standard in cancer screening and should be carried out at the latest from the age of 50, or even earlier in the case of family history. The recommended screening intervals depend on the findings.
How is a colonoscopy in Garmisch carried out?
Preparation: unique in Germany
Here with us at Das Graseck, even your colonoscopy becomes a recuperative experience. While elsewhere the preparations for the colonoscopy begin the day before the actual examination, it's all very relaxed here with us: In the morning, you can look forward to a light breakfast with no grains or fibre-rich foods, then comes the fasting period with four to six hours of drinking time to cleanse the intestinal tract. You are welcome to spend this time in the Panorama Spa, as you'll only be invited to your colonoscopy in Garmisch in the afternoon. And afterwards? We'll pamper you with a delicious evening menu to bring the day to a close.
Examination: quick and pain-free
The examination is carried out under twilight sleep, which means you won't be aware of the examination itself. To ensure the utmost safety, while under sedation* you'll be connected to a monitor which displays the oxygen saturation of your blood, as well as blood pressure, pulse, and ECG. During the colonoscopy, an endoscope (a flexible tube) is inserted into the rectum, allowing the entire colon to be examined. If any polyps – precursors of benign and malignant ulcers – are detected, these can be directly removed during the same session using forceps or a snare. You won't feel a thing. The examination itself lasts around 20 to 40 minutes, depending on the condition of the colon and any polyps that need to be removed. Afterwards, you'll rest in the examination room for around 30 minutes and then discuss the results in detail with the physician.
*The medication used for sedation is easily controlled and has only a short half-life, meaning that you wake up promptly at the end of the examination and recover quickly. Driving is not permitted for legal reasons, so if you are not staying with us, you will need someone who can drive you home.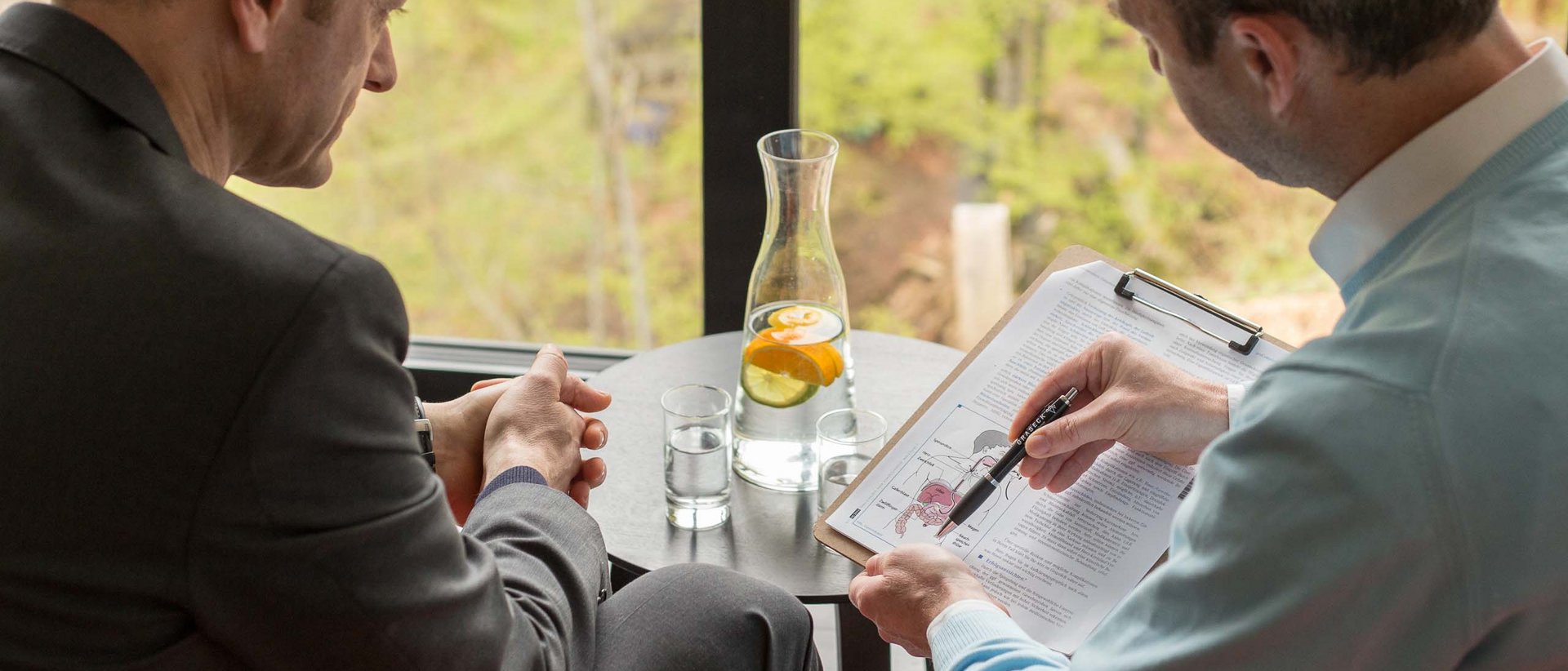 A colonoscopy can help to prevent bowel cancer, nip many other diseases in the bud, and protect your health instead of just combatting symptoms.