Das Graseck's healthy indulgence
The culinary philosophy at Hotel Das Graseck is clear and simple: It's all about eating and drinking well. Because as the Ancient Romans also knew: "Mens sana in corpore sano" – a healthy mind can only live in a healthy body. Every day, we pamper our guests with a symphony of different flavours that blend harmoniously on the palate and give you a feeling of healthy well-being. Only natural products of the highest quality, predominantly of regional origin, are prepared in our kitchen. For a healthy taste experience from early morning until late evening.
Breakfast: 7.30 a.m. – 10.30 a.m.
For a healthy start to your day, you'll find crunchy bread, freshly pressed juices, delicious fruit, sweet and savoury treats, as well as a colourful selection of yoghurt, muesli, and nuts on our extensive breakfast buffet. Egg dishes are prepared freshly for you upon request. That's how we give you a vitamin kick in the morning! Please note that the breakfast buffet opens at 8 a.m. in winter.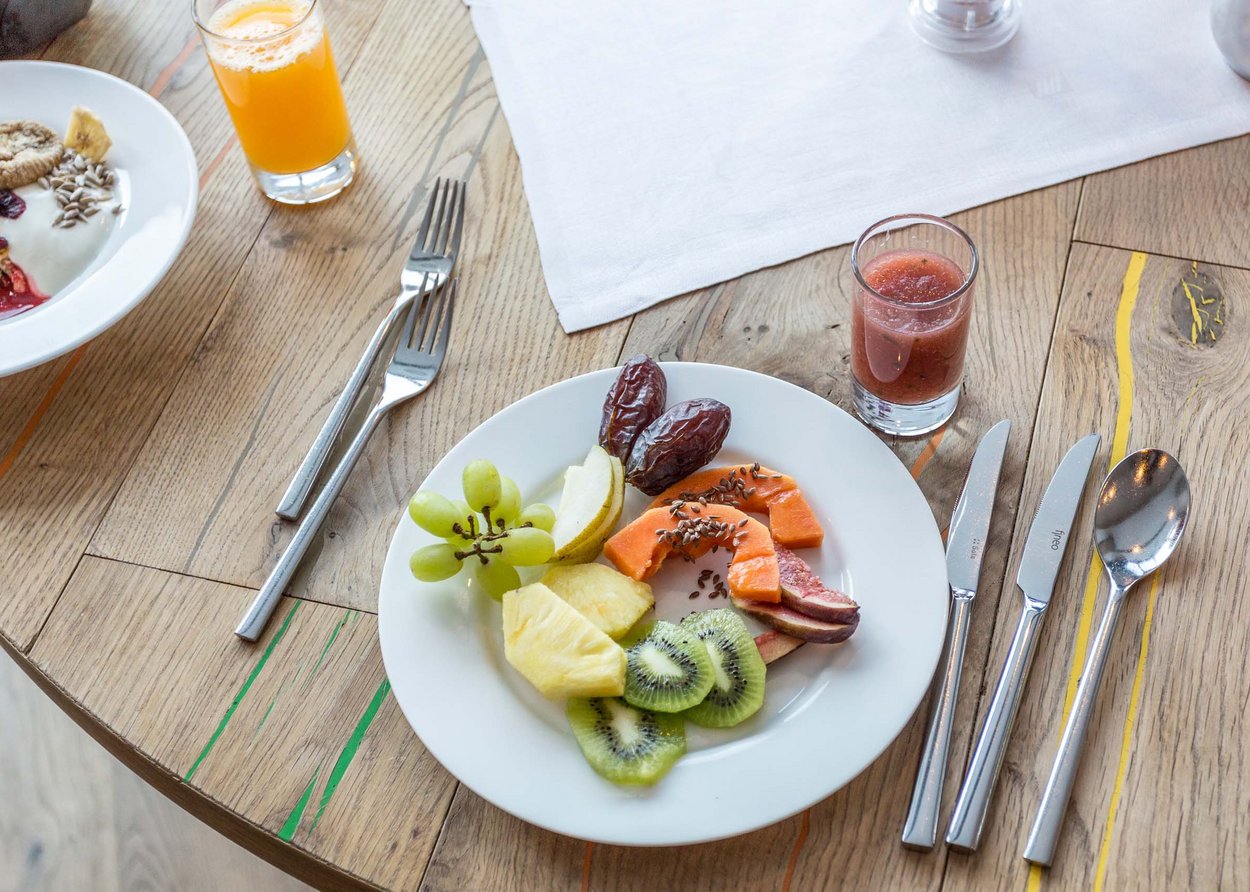 Breakfast buffet for external guests (reservation required)
€30 per person excl. the cable car ride, incl. coffee specialities and freshly pressed juices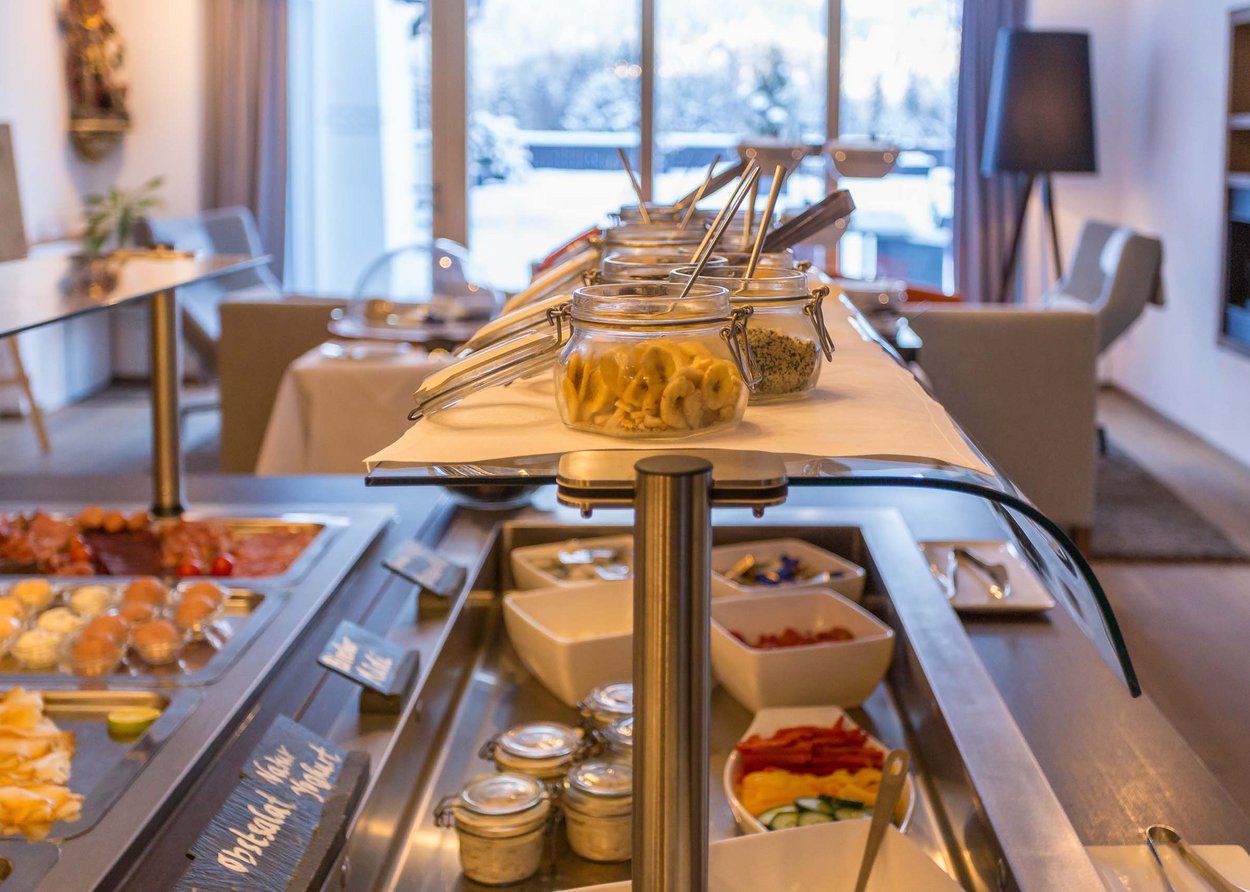 Lunch: 12.30 p.m. – 4 p.m.
Divine culinary delicacies, served in the stylish and yet cosy ambience of our light-flooded dining room, offer everything foodies' hearts desire. Our lunch menu has the right dish for all tastes and appetites – whether you're a hotel guest or day spa guest.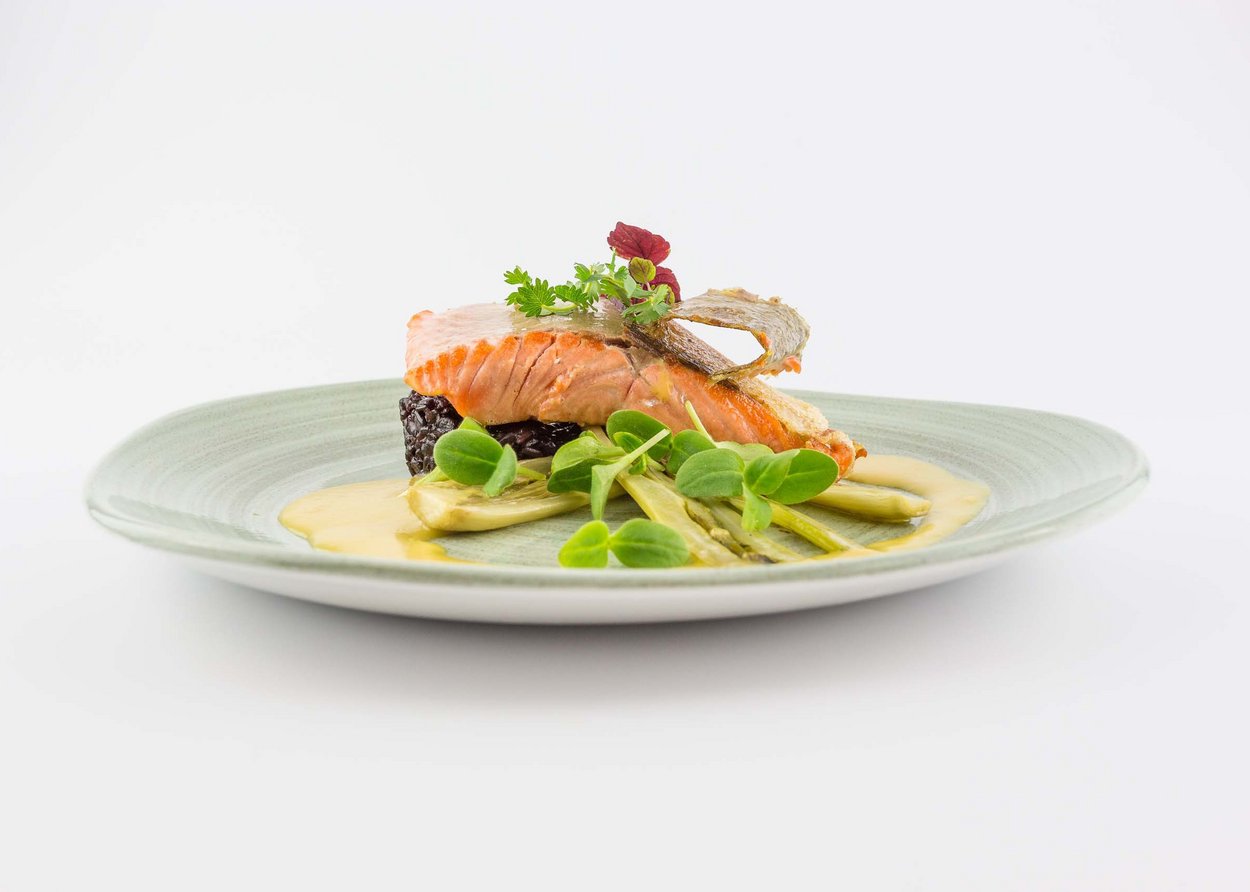 Dinner: 6 p.m. – 8.30 p.m.
Enjoy dinner by candlelight and choose from our daily 4-course menu consisting of starter, soup, main course (vegetarian, fish, or meat), and dessert, which we prepare exclusively using the best quality ingredients of the region and season. Please let us know in good time if you have food intolerances or would like to choose our vegetarian or vegan option; we will be happy to accommodate your wishes.
Dinner for external guests (reservation required)
€57 per person excl. cable car ride